Overview
Upgrade your entertainment system by bringing home this Flow Flash 5.1 Speaker System. Brought to you by Flow Flash, it will be an ideal choice for getting an unmatched home theatre experience as it features a 5.1 channel. This has a built-in FM Radio than enables you to tune into your desired station at any time.
Design
This 5.1 home theatre System comes with 10 cm wooden woofer and 7.6 cm speaker. It has 5 Speakers measuring 7.62 cm each and one Sub Woofer measuring 10.16 cm. The various connectivity options lets you play songs from FM and USB Pen Drive. With Aux Input, you can connect it to a Laptop, TV, a DVD Player, a Computer, a Mobile Phone, a Tablet or an iPhone. Featuring a superior built quality, this Flow Flash 5.1 Speaker System will give you a great value for money. The chassis of the subwoofer has been crafted from good quality wood, whereas the speakers have been made of plastic that not only gives it a fine finish but also makes it easy to maintain. The placement of the LED display on the front panel not only shows the levels of adjustments accurately but also adds to its design. It will be easier to select and play the songs with the help of this display. The set includes a remote control but there are keys and knobs on the front surface of this sub woofer.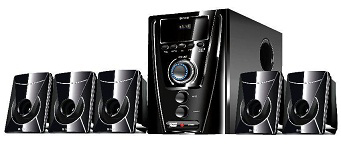 Connectivity
This Flow Flash 5.1 Speaker System supports various connectivity features and can be connected in numerous ways. It supports a Micro SD card slot and a USB port which supports plug and play. It also has an AUX input. This home theatre system is compatible with most phones, tablets, DVD players, Laptops, MP3 players and TVs. Furthermore, it features a Bluetooth connectivity, so that you can access the playlist from your mobile phone without being connected with a wire. With the presence of USB ports you can transfer music from various media players. The Aux cable further enhances the connectivity features of this set up.
Sound Quality
The frequency range of this Flash speaker system is 35-200Hz. This is suitable for small rooms, the satellites deliver 08-watt output and has a fine bass due to its 5.1 speakers. This Flow Flash 5.1 Speaker System also comes with adjustable treble and bass knobs, present on the subwoofer that enables you to equalise the sound as per your requirements.